What is Shockwave Therapy and How Does it Help?
Shockwave therapy is a noninvasive therapy that has been used in orthopedics to help heal broken bones, and injured ligaments or tendons. High-energy sound waves can be used to speed up tissue repair and cell growth.
Erectile Dysfunction (ED) is a condition that restricts blood flow to a man's penis, which in turn reduces the quality of their erections. To mitigate this condition, shockwave therapy repairs and strengthens blood vessels in the penis and increases blood flow to the penis.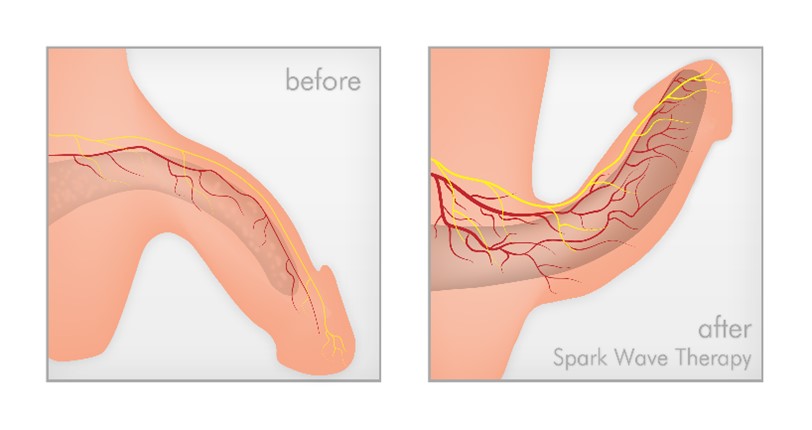 How Does Shockwave Therapy Work?
With a wand-like device, a healthcare provider moves the device along different parts of the penis for 15-20 minutes while it emits gentle pulses. The pulses regenerate damaged blood vessel tissue in the penis, and this creates the improved blood flow that leads to natural and spontaneous erections that are sufficient for sex. The formation of new blood vessels, combined with the restoration of blood flow throughout the penis, helps restore erectile function in men with ED. The most common treatment plan, determined by clinical trials, was twice weekly, alternating between three weeks of therapy and a three-week break. Therapy lasts for about a year. Although it is not approved by the FDA, serval studies show that shockwave therapy can produce very encouraging results. 
How Well Does This Therapy Work?
For those who are the right candidates for the therapy, the treatment works great! Our providers make a custom treatment plan for each patient, which provides the greatest chance for quick recovery from Erectile Dysfunction.
Most men experience the same rigidity and quality of erections that they experienced when they were younger. This enables them to once again enjoy a fulfilling sex life
Maximum effect and quality is typically achieved in about three months. 
As studies have shown, men that previously took ED medication were able to discontinue them and enjoy natural quality erections
As new blood vessels are formed, improvement in erections can be seen within a few treatments
If you suffer from ED, let ASUI providers help free you from ED medication and restore your spontaneous, active sex life. Schedule an appointment with one of our experienced providers today to discuss if shockwave therapy is the right option for you!